You know when you have an awesome idea for a vid and you'd love someone to make it? Well, over at
spn_sceneit
we have streamlined our Inspiration Posts so it should be easier to leave a prompt
anytime you like.
We have created a
One Stop Inspiration Post.
You can pop over any time and leave your idea or song in the comments.
Vidders - if you are stuck for an idea or your muse is needing a little push a visit to the OSIP might give it the kick you need. Past Inspiration Posts are also linked there.
My guilty pleasure comm is
ohsam
They are currently running a h/c comment fic meme. Lots of delicious prompts to be filled.... (yay!). And ok.. I am slightly embarrassed by my prompt, but hey.. we all have our own kinks.. ;)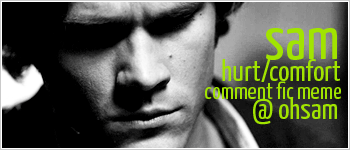 Podfic rec
Podfic:
Deadline on Love
or
Story on LJ
Author:
lycaness
Reader:
juice817
God. I adored this fic more than I can say. Seven hours of absolute listening pleasure. As always
juice817
delivers with the wonderful variety of voices, pacing, inflection, emotion... just... everything. I cannot fault any of her recordings.
But the story..*guh*... I think I found my perfect J2 combination - first time bottom!Jared, troubled, sexy as hell Jensen, a mystery, a wonderful, wonderful love story, awesome OC's... just.. everything. I love the way this story is structured. A perfect combination of angst, tension, heartache, warm fuzzies, hot, hot sex, schmoop. It made me cry and whoop with joy (which is kinda embarrassing in the middle of a park...).
(If anyone has similar type podfic recs I am all ears!)