A couple years ago I was approached by
fangasm
to see if I would be interested in compiling some screen caps (no more than 20 from seasons 4-8) that could highlight the cinematography of the show for their book:
Fan Phenomena: Supernatural
(edited by Lynn Zubernis and Katherine Larsen). I leapt at the opportunity (of course! *g*), not least because it's one of my favourite things to talk about.
In order to do this I created this post so I could share my thoughts with some fellow fans. I didn't feel like I could do this by myself so I asked
galwithglasses
,
el1ie
,and
missyjack
to help me with some suggestions and provide feedback on my choices and text (thank you ladies!).
This helped provide a backdrop to an interview by Lynn Zubernis with cinematographer, Serge Ladouceur. Much of this is speculation from me about what might be represented in each shot. During the interview (in the book), Serge was asked about these shots and he shed some light on the cinematic process.
I loved putting this post together so I thought I'd share it with those who might be interested in the visual meta of Supernatural.
Cinematography of Supernatural

One of the most rewarding aspects of being a Supernatural fan is being able to appreciate the gorgeous cinematography presented in each episode. It is obvious how much thought and care is taken when considering shots and it's always great fun analysing the possible meaning behind certain shot choices.

The last four seasons have given us some absolutely fabulous moments and I'm thrilled to be able to present some of my favourites.


1.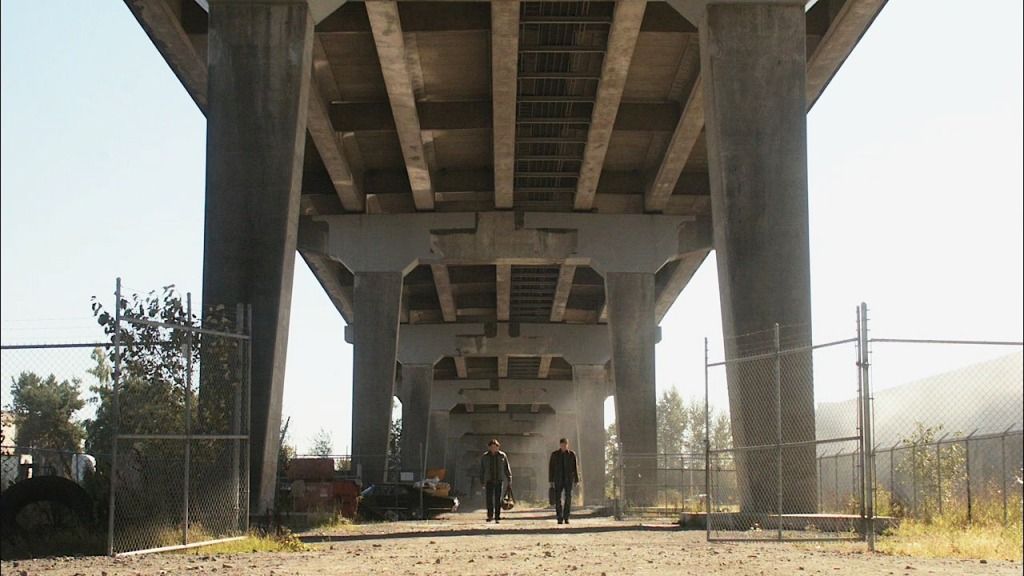 6.08 All Dogs Go to Heaven
Director: Philip Sgricca

I have to start with one of my all time favourite shots. This is a brilliant use of architecture. The bridge feels like such a huge and heavy weight above the boys - symbolising the constant weight they have on their shoulders. It looms above them and makes them look so small and alone. The lines of the bridge, the fence and even the angled stream of light, draw the viewer's eye to the centre of the frame.




(

Collapse

)



Fan Phenomena: Supernatural can be purchased HERE or at most conventions.

All caps from Home of the Nutty